Here are some of the graphic novels that I read recently that are part of series I've been keeping up with:
Moon Girl and Devil Dinosaur (Volume 2)
Luna Lafayette is my girl.  She is prickly, cranky, and too smart for just about anyone in the entire world.  She also has a demonic dinosaur from the past who's her BFF.  So she's got that going for her.  I adore this series- it's cute, it doesn't talk down to or about Luna or her accomplishments, and it allows her to make mistakes and be wrong and yet learn something from it all.  The little bits of other Marvel heroes, like my fav Ms. Marvel in this volume, are showing how Luna is starting to fit in the larger universe.  Right now, the story is still about Luna, her family, Devil Dinosaur, and how she figures out how all of the pieces in her life fit together.  I can't wait to see where this journey will take her next.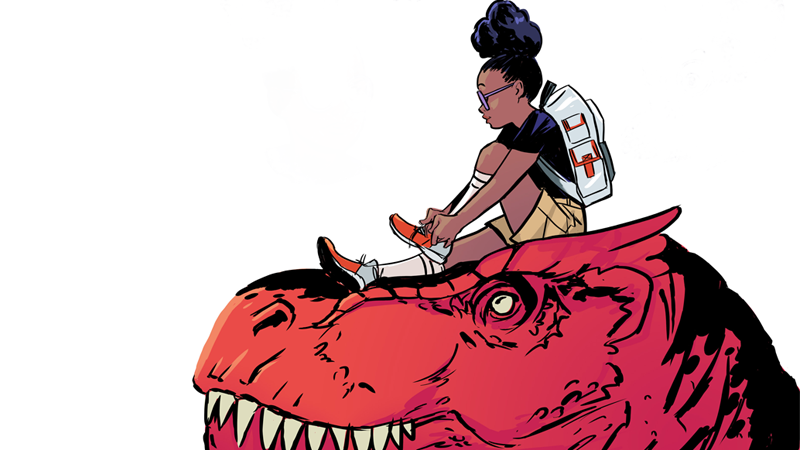 I Hate Fairyland (Volume 2)
Skottie Young has a fluffing fluffed up mind.  And I wouldn't have it any other way.  Gertrude is back and she's causing even more mayhem than she did the first time around.  Nothing like a child getting stuck in Fairyland and losing her complete mind as she ages in mind and spirit, if not body.  This is the incredibly bloody, violent, and profane (we know what all of those fluffs really mean) trip to fantasy land for all us.  I don't know if Gertrude is ever going to make her way out of Fairyland, but I want to watch her tear that place up as she tries.
Giant Days (Volume 4)
Susan, Esther, and Daisy are the girls I wish I had been friends with my entire life.  Now, not to knock on any of my awesome girl friends or sorority sisters, who are amazingly wonderful people.  But I would have loved to have gone through some of these crazy adventures with these gals.  And this is just another great series of adventures, filled with their trademark wit and sarcasm.  So much love here.

Ms. Marvel (Volume 6)
Who do I have to beg to get my Ms. Marvel movie and/or TV show? Who? Because dammit, this girl deserves the brightest spotlight we can provide.  Another great outing for one of my favorite superheroes, and this time chock full of tragedy.  I hate seeing Kamala suffer, but the writing was strong and her fight to be a good person felt true.  I just hope the next volume is a little kinder to our Jersey City heroine.

Paper Girls (Volume 2)
Time travel, aliens, the 80s, and a paper route.  Yep, it's Stranger Things meets Now and Then (aka the girl Stand by Me).  I almost don't want to say too much about this series because half of the fun is discovering all of the rabbit holes it will bring you down.  I love the friendship between the girls, and the color palette of these books is phenomenal.  It just adds to the feeling that this series is singularly amazing.